Shoe Stolen By Mossad Sure It Will Go Home Any Day Now (PreOccupied Territory)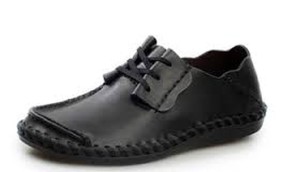 London, March 16 – A piece of footwear surreptitiously taken from the residence of a British Muslim activist last summer still anticipates its imminent return to his closet, sources at a Mossad safehouse reported today.
Nestled anonymously among the many Jewish family homes in the Golders Green neighborhood sits a nondescript two-story white house with gray shutters, a well-kept lawn, and a tall hedge that blocks a direct view from the street. On its second floor, in a box labeled "Archives – June-July 2015," lies another box, this one containing a single leather shoe. It has been separated from its mate for more than half a year, but still awaits the reunion it believes to be impending.
"I can't wait to go back home," gushed the shoe, shifting slightly in its box. "It's nice and quiet here, but I'll be going back to my mate and to Asghar soon, and that will be nice, too," it added, referring to Asghar Bukhari, who alerted the international community to his shoe's fate last July upon discovering it had gone missing.
The shoe took the opportunity to reminisce about the times before, during, and since its capture eight months ago. "I remember being taken off, as usual, when Asghar was getting ready to get into bed that summer night," it began. "He dropped me next to a pile of slimy socks that, shall we say, did not last have a foot in them, if you know what I mean. But that's OK; I stank, too, after a long day on that foot. It was a quiet evening."
"Then, next thing I know, I'm bundled inside some trenchcoat and taken for a ride around London," the shoe continued, more loudly. "It was fun, actually. I loved the mystery, the intrigue. After doubling back a few times, and being left at a dead-drop location somewhere – could have been on the East End, but I was wrapped up, I'm not sure – some guy picked me up the following morning and brought me here. It's nice here," he added.
Not much has happened at the safehouse in the interim, as far as the shoe can tell. "Just the usual, you know? Lots of empty boxes labeled 'ORGANS HARVESTED FROM PALESTINIAN CHILDREN,' which the folks here fill with rocks and then ship to anti-Israel charities around the country. Just typical stuff, I guess. It's pleasant enough. But it would still be nice to go back to Asghar's house again. I just hope he's cleaned up those 'used' socks."
We have lots of ideas, but we need more resources to be even more effective. Please donate today to help get the message out and to help defend Israel.